Let's be honest, I could write every single Moment about the arrival of Heidi to Casa Cherry this week but I'll try not to... OK, there's a couple...
1. Finally getting to bring her nibs home! If you haven't been following along, Heidi is our new pupper, she's an American Bulldog we rescued from Dog's Trust last week. To be fair we could rename her Rhonda Rousey because she be SWOLE but Heidi is her name & we're smitten.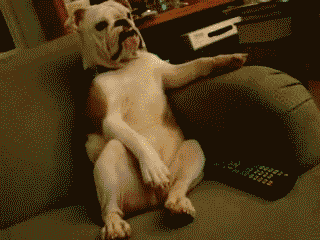 2. Secondly, both the Gorgebags and I agreed to take part in the filming of a TV3 series for Dog's Trust to follow our adoption story & the importance of adoption over 'shopping' for dogs.
The lads did brilliantly, though there were a few tears when we spoke about poor old Diesel. It'll air in September and we'll be sure to tell you when to watch out.
3. Only bemoaning having to go back to the office after a glam morning of meetings & events, when I was presented with a Cornetto by a new colleague. We were having office ice creams just because. That's a thing now.
4. Adam sailing through his college first year exams. CHUFFED!
5. Making a habit now of Snapchatting Corrina's little ones when there's new filters available. We were in creases sending ever wilder ones back & forward. Forget Skype, lads!
Tell me, what's been making your Monday so far? What one Moment has mean there's no Monday Blues for you?