Happy Monday, one and all! For those new to our corner of the web, this is one of my ongoing weekly posts, in which I give a little nod to the Moments that mean I have no Monday Blues and absolutely encourage you to do the same. In no particular order of dealiness this week:
1. ONE glass of wine after work glass with a good pal turning into an all night, setting the world to rights sesh (and surviving same).
2. Finally upgrading my phone to the Sony Xperia Z3 w 20.7mp camera,
2160p@30fps
video,
Quad Core CPU & a two day battery(!)
(AND it's in rose gold natch)!
3. Having someone in the canteen tell me that I was featured alongside the fab Girl Crew gals in the Irish Times, chatting about making friends online.
4. Planning a New York trip for the Gorgebags & I! Adam (my youngest), being the legend that he is, is bringing the three of us to the Big Apple.
I've lost control of one eye with the excitement of it all!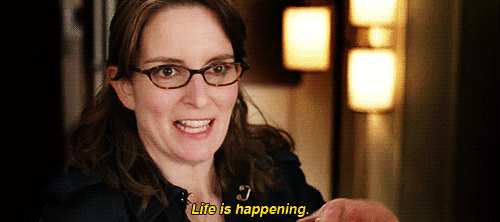 5. We've been working with a French Arboriculturalist (tree specialist) for about a year now. Since he started work we've been doing our worst/best 'Allo 'Allo impressions. We're nice like that. This includes loudly saying 'Sacre Bleu!' every time something goes wrong (which no French person actually says) UNTIL NOW.
When he couldn't log on last week he exclaimed 'Sacre Bleu' and after choking for full minute, it dawned on me. We and he have inadvertently perpetuated the stereotype! He's already admitted saying it outside without even thinking about it ~ so EVERYONE that overhears him will be positive that it's a thing!